Assembly instructions
Assembly instructions
Display Mannequins assembly instructions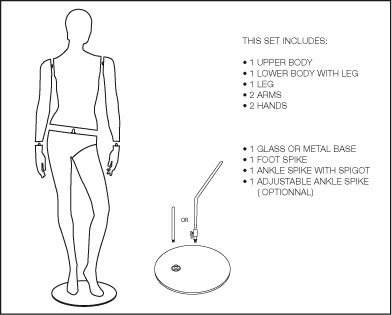 A – LEGS SET UP
Locate the leg into the leg fitting and twist the window mannequin into the correct position. Make this step easier by putting the legs upside down. Hold the leg to fit by its calf and twist. The fitting is spring loaded, so please take care when twisting it into place. You should now not need to
remove this leg in the future even to dress jeans as it is sprung to flex for convenience.
B - DISPLAY MANNEQUIN INSTALLATION ON BASE
1 • Foot fitting
Screw in the spike onto the base plate. Make sure it is secured.
2 • Ankle fitting
Locate the spike into the extra spigot. Screw in on the base plate and make
sure it is secured. Put the legs on the spike. Adjust on base.
Put the spike into the hole located at the calf. Adjust on base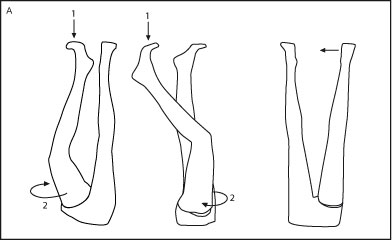 3 • OPTION ONLY : Bendable spike
The angle on the spike can be adjusted manually by pulling/pushing the spike.
For this, please stand on base before adjusting the spigot and spike on the base
to prevent glass breakage.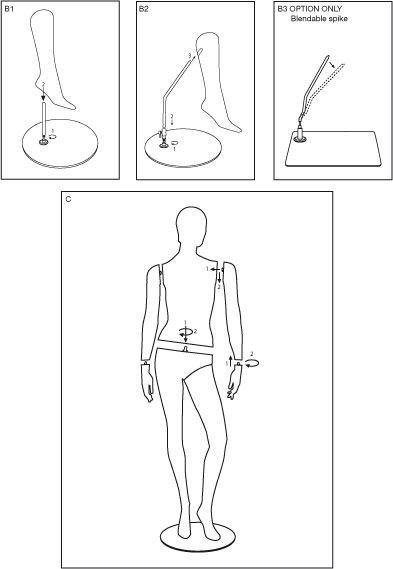 C – WINDOW MANNEQUIN ASSEMB LY 
1 • Locate the upper body on the central spigot. The off centre nipple will hold
the 2 parts securely together.
2 • ILocate hands to arms by twisting into the correct position, and then put arms
to the bust.
YOUR MANNEQUIN IS SET UP AND READY FOR USE
Your window mannequin can be cleaned with a damp cloth. Scratches can be removed
with a white rubber eraser. The gloves supplied will help you to keep your display mannequin
clean Small chips can be fixed with the touch up paint supplied.
(not supplied for chrome or gloss finish
Sorry for the inconvenience.
Search again what you are looking for